The very lovely
Joy
sent me this the other day as a thankyou for lending her some addis so she could try out the socks on 2 circs method. I have met some really lovely people from the internet and I am always amazed by how nice and generous they are.
Due to popular demand I have had to reopen the sock club. It will not be with BFL yarns but with normal sock yarn of 75% wool and 25% polyamide. It will run along side the BFl club and will have the same colours dyed. the price will be £27 for a UK membership and £32 for orders going abroad.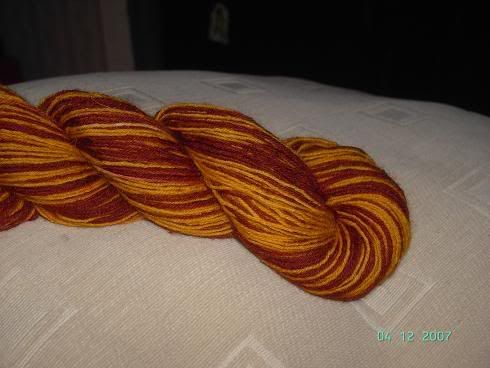 I recieved a custom dye order today, somebody is taking part in the Harry Potter sock swap and their partner is in Gryffindor so she asked me to do the house colours, the yarn will knit up in stripes of about 5 - 6 stitches wide. I loved dyeing this and look forward to the pictures of it knit up.