well the woolfest wobbles are over, I am a happy bunny again and confident I will do my best. the merino I have been dyeing is so lovely it had to cheer me up, it is so sproingy ( is that a word? ) just by looking at it you fall in love with it. I will post some pics soon.
I have been wanting things to display, my creatures of the reef shawl is coming on holiday with me so hopefully I will be almost finished with that by the end of the two weeks. I have some socks, scarf, booties and hat, so I am in crochet mood. I am making up a good few squares to either display or use as a back drop depending on how many I can do.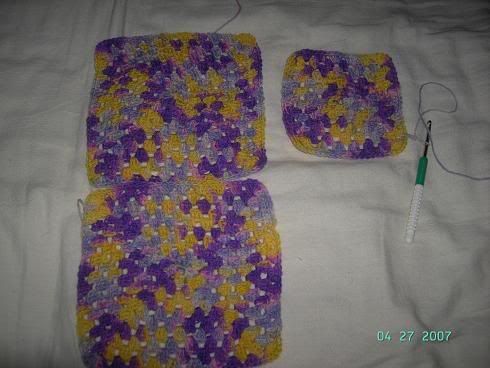 these squares are made using this months club yarn, I love it, I really like the hints of pink here and there. I don't know what the other colours will be, I will just decide once these are done.
My etsy shop is going well http://etsy.com am making new friends and selling to america more. etsy has a lovely feel about it and I could trawl through all those shops hour after hour